[Home]
[Democratic Action Index]
[Gail Murray Home Page]
---
Gail Murray Fundraiser
At the August 15th, 1996 Event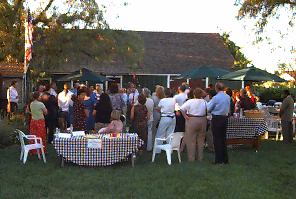 On this pleasant evening, Gloria Taylor hosted a fundraising event for Gail Murray at the Retzlaff Winery vineyards in Livermore. Speakers and guests included Delaine Eastin, State Superintendant of Public Instruction, Cathie Brown, Mayor of Livermore, and Ben Tarver, Mayor of Pleasanton, and a number of other regional elected officials.
Gail pointed out that she will bring a great deal of legislative and executive experience to Sacramento, having been Mayor of Walnut Creek and General Manager of a Hayward paratransit company, as well as being an expert in transportation matters in her own consultancy. She contrasted this with her Republican opponent, Lynne Leach, who has never held any political office other than as a member of the Republican Central Committee.
In her address she also stressed the importance of education, recalling in her own teenage years when California led the nation in education. She also pointed out that education will be the foundation for future economic success of the state, currently the seventh largest economy in the world, and that we need a first class education system much more than a first class prison system.
Below, left to right: Cathie Brown, Mayor of Livermore, Gail Murray, Assembly Candidate, and Delaine Eastin, State Superintendent of Public Instruction





Left, Robin Torello, Castro Valley/San Leandro regional precinct coordinator, purchases a raffle ticket from Marian Goodman, a member of the campaign staff. Gail has donated her personal classic MG sports car to this part of the campaign fundraising effort.

---
[Home]
[Democratic Action Index]
[Gail Murray Home Page]