[Home]
[Democratic Action Index]
[NOW Event Page]
---
The NOW Event Action Page
"Fight the Right"
At the April 14, 1996 National Organization for Women (NOW) Mass Event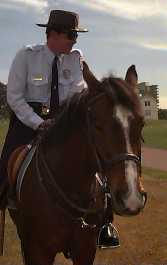 In a quiet time as participants gather a mounted park policeman awaits. Park and city police appeared non-hostile - unlike during the Viet Nam War protests. Times do change!




















---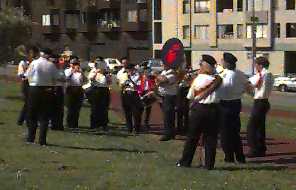 The San Francisco Gay And Lesbian Freedom Marching Band prepares for the parade. Logo on sousaphone is a musical staff over a heart.
















---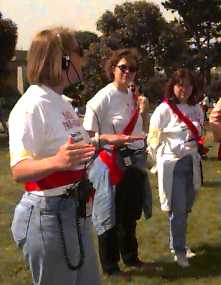 Supervising event monitors were experienced in defending clinic access and were well equiped with modern communication equipment.























---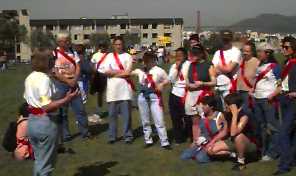 Instructions were given to volunteers in gently handling potentially violent activities by hecklers, hotheads and provocateurs. Techniques taught include isolation of disruptive individuals where necessary by forming a ring of monitors.













---
A band warms up the crowd at the assembly point.

---
A panoramic view of some of the participants as the assembly in the street begins.
---
A young girl, "walking tall".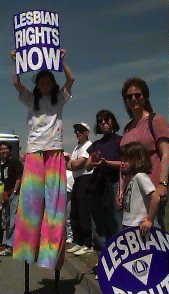 ---
Two parade participants exhibit signs. "LESBIAN RIGHTS" - "FIGHT THE RADICAL RIGHT" - "Its a Wet Year - Flush Radical Cong. Bill Baker" Yellow tag on Flush Baker sign reads:
Greed
Oppression
Poverty


















---
Lead banner carriers. "MARCH TO FIGHT THE RADICAL RIGHT"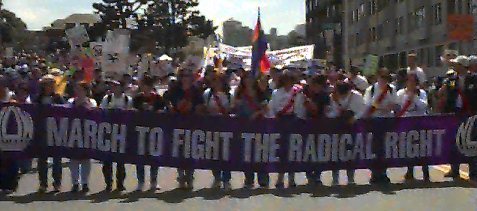 ---
Signs - "STOP THE WAR ON IMMIGRANTS! DEFEND AFFIRMATIVE ACTION"
"CHILDREN WILL GO HUNGRY - DEFEAT THE CONTRACT ON AMERICA"

---
[Home]
[Democratic Action Index]
[NOW Event Page]